Luxury Villas for sale in Mijas
Mijas, Málaga, Andalucía, the Costa del Sol, Spain
If you want to buy seaview luxury villa in Mijas near the beach on the Costa del Sol, the Province of Malaga, we will find the best villa for you. Feel free to call: , +34(656)19-68-80 Natalia, +7(903)327-60-59 Valeria or email us info@spain-style.ru, spain.style.ru@gmail.com and we will contact you as soon as possible

Villa for sale in Mijas, Riviera del Sol
780.000 €
4 dormitorios,
230 m² Built
View Details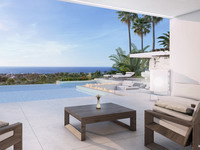 New luxury villas in Mijas
SOLD
750.000€- 795.000€
4 bedrooms,
Plot: 563m², 657 m²
Built: 478 m² 487 m²;
Modern new villas in Riviera del Sol, a new development of 2 luxury chalets. Enjoy stunning panoramic sea views, Eco design and low maintenance building, luxurious interior decoration, lots of natural light and open spaces.
View Details
Mijas on Google map


Feel free to call: Viber , +34(656)19-68-80 Natalia, +7(903)327-60-59 Valeria or email us, please, and we will contact you as soon as possible.