Almuñécar, Granada, the Costa Tropical, Andalucía, Spain

If you want to buy a luxury villa in Almuñecar on the Costa Tropical the Province of Granada, feel free to call: , +34(656)19-68-80 Natalia, +7(903)327-60-59 Valeria or email us info@spain-style.ru, spain.style.ru@gmail.com and we will contact you as soon as possible

Almunecar is located on the tropical coast of the Mediterranean Sea. It's a kind of city where there is the co-existence of Andalusian style houses and new contemporary style residential areas with swimming pools and beautiful gardens. And away from the centre there are luxury modern villas with spectacular views to the sea.

The weather is perfect, sometimes you can swim in the sea in winter. There are 26 fascinating and fully equipped beaches with its beach bars, showers, umbrellas and hammocks throughout the seafront. There are fashionable boutiques, stores chain and local markets with fresh sea food. So you can find everything you need. There are some lovely public spaces like parks and squares. Spanish tapa bars are an irresistible attraction for tourists. The public life is really hectic, fiestas during the year, concerts, exhibitions, cycling competitions so there are lots of things to see and do. Yoga courses and dance classes, also you can swim every day in the sea. It's a lovely city with a great atmosphere and Spanish people are very friendly and cheerful.

The history of Almunecar is more than 3000 years, so there are many historical places of interest and tourist attractions. For example, the Castle of San Miguel, the Osel Ling Buddhist Centre which is a shrine for Buddhists from all over the World, and the Loro Sexi Bird Park is which the ornithological park with a parrot show, a cactus garden and a pool with turtles, Aquarium, Aquatropic Water Park and museums.

Almunecar is a great destination for tourists. But it is not so popular as Marbella, so it is not crowded.
Almunecar is not far from the two metropolitan cities such as Granada and Malaga. It is about 60 minutes from the Sierra Nevada ski resort and 45 minutes from the Malaga international airport. There are some golf clubs and an exceptionally pretty Marina del Este port in Punta de la Mona just 10 minutes from Almunecar. You can rent a yacht or a boat or have diner in a good seafood restaurant.

Villa in Almuñecar, Granada
850.000 €
750.000 €
Plot 1.475 m²
Built 250 m²
first line beach

Seaview villa in Almuñecar, urbanization Citalsol
525.000
500.000 €
4 Bedroom(s)
3 baths
Built 401.35 m²
Plot 1208.43 m²
terrace 400.34 m²
View Details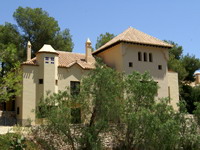 Villa in Cerro Gordo, Almuñécar
870.000 €
4 Bedrooms,
Plot 1320.00 m²
Built 376.8 2 m²
Distance from the beach 1 km
Seaview luxury Villa for sale in Cerro Gordo. High quality modern mediterranean architecture, wide spaces and special exteriors. High quality materials with antiques, mixed with modern style. Beautiful gardens and pool with bar, ideal for partying.
View Details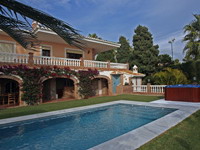 Luxury villa in Punta de la Mona 4.500.000

4.000.000 €

4000 m² Plot

400 m² Built

2 Living rooms, 4 Bedrooms,

2 Kitchens,



Feel free to call: Viber , +34(656)19-68-80 Natalia, +7(903)327-60-59 Valeria or email us, please, and we will contact you as soon as possible.