Country house with 7 ha land in the Sierra Nevada National Park
Trevélez, Granada, the Costa Tropical, Andalucía, Spain
A stone country house on a 7 hectare plot of land in one of the most picturesque Andalusia place in the Sierra Nevada mountains reserve with the cleanest ecology.
It's an Ideal place for relaxing with family or friends far from the city noise and fuss. The ideal place for nature lovers and alternative lifestyles and for any sport outdoors far from civilization.
Price: 120.000€ 100.000 €
+ Additional buying cost
ITP: 8 %
Notary's fees: 0,3-0,5%
Registration fees: 300-600€
Land: 7ha
Built: 80 m².
Living room with kitchen and fireplace;
Bathroom;
2 bedrooms;
Mountain View Terrace;
There is an old building of 15 m2 with a permit for reconstruction;
The plot is fully fenced;
The house has been recently restored in compliance with all the canons of local architecture with using natural local materials such as natural stone. The wall thickness is almost 1 m.
Water is from the Sierra Nevada natural sources. Electric current generator. it is necessary to install a septic tank for wastewater. There is a permit for the construction of a 14m x 14m x 2,5m water tank for collection and storage of water from mountain canals for irrigation.
There is an entrance from the side of Portugos. You can easily clear the road for travel by car.
In front of the house there is a mountain view terrace, an ideal place for breakfasts and dinners listening birds singing, the noise of a mountain river with unusual smells of the forest in perfect harmony with nature. In this paradise there is nothing that could break the silence and peace.
This is an ideal place for rural tourism , and for agriculture.
You can grow fruit trees: cherry, apples, plums, figs, etc.
An ideal place to grow Cherry tomatoes.
There are lots of mushrooms in the autumn.
You can keep bees, because there are the best fragrant herbs and flowers such as rosemary, dog rose, thyme, lavender and so on..
Location
Finca with a country house is located not far from Trevélez, which is the highest village on the Iberian Peninsula, at an altitude of 1.476 m. The village is famous for its Jamón ibérico, which is excellent here because if the dry and cool climate.
Trevélez with a population of 758 people is located 97 km from Granada. The main activities are active tourism, production of the ham and farming. It is only 5 minutes from the village, where there is a hospital, a pharmacy, shops, good restaurants and bars. Nearest villages are: Busquistar, Portugos, Bercules, Huviles.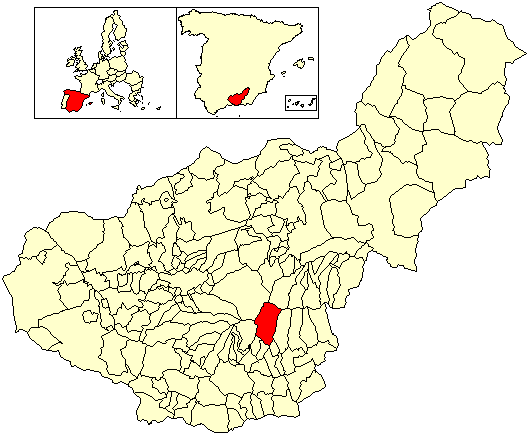 Order form

If you want to buy or to know more information about Country house in Granada, contact us, please.



Feel free to call: Viber , +34(656)19-68-80 Natalia, +7(903)327-60-59 Valeria or email us, please, and we will contact you as soon as possible.