Flats and penthouses for sale in Benalmádena
Benalmádena, Málaga, Andalucía, the Costa del Sol, Spain
If you want to buy a first line flat or penthouse in Benalmádena near the beach on the Costa del Sol, the Province of Malaga, feel free to call: , +34(656)19-68-80 Natalia, +7(903)327-60-59 Valeria or email us info@spain-style.ru, spain.style.ru@gmail.com and we will contact you as soon as possible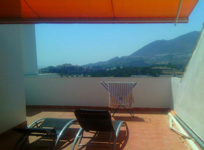 Penthouse in Benalmádena Torrequebrada

450.000 €

4 Bedrooms,

230 m2; Built

Luxury apartment with panoramic views of the mountains in Benalmadena Torrequebrada. There are gardens and 5 swimming pools in the urbanization. Distance to the beach - 500 m. It is possible to arrange a re-mortgage.
View Details



Feel free to call: Viber , +34(656)19-68-80 Natalia, +7(903)327-60-59 Valeria or email us, please, and we will contact you as soon as possible.